Brake pad replacement is one of the most important maintenance tasks you could perform on your vehicle to ensure the safety of yourself and other drivers on the road. Your brakes need to be in good condition to perform at their best, so regular brake pad replacement and brake maintenance can go a long way toward keeping your vehicle healthy.
Learn more about the brake services and brake pad replacement near Bowling Green, Toledo, and Napoleon from the service center at Al Smith Chrysler Dodge Jeep RAM.
Brake Replacement near Columbus, OH
Signs You Need Brake Pad Replacement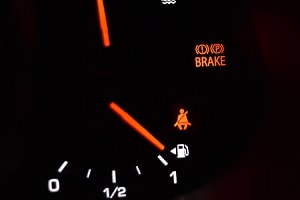 While there are some signs of brake problems that are hard to miss, such as a shaking steering wheel or a squeaking sound, other signs may not be as obvious.
If you notice the following warning signs, it may be time for a brake pad replacement or brake repair for your vehicle:
The brake pedal is spongy.
The vehicle pulls to the left or right upon braking.
The brakes squeak, squeal, or grind.
The steering wheel vibrates upon braking.
The vehicle wobbles or pulsates when driving at high speeds.
The brake warning light is on.
The brake pedal requires excess pressure.
The brake pedal response is slow.
It's been over 12,000 miles since your last brake service.
If you notice any of these signs of brake wear or problems, it's best to make an appointment for brake service at a nearby service center. This not only necessary to prevent damage to your brake components, but it also ensures that you have the stopping power you need.
Brake Pad Replacement Near Me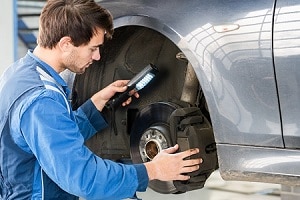 Brake pads rub on the brake rotor to stop your vehicle, so it's inevitable that the brake pads will wear over time. If you're having brake problems, this is the first component that should be checked and replaced, though other problems can arise within the many moving components of your braking system.
Your brake service or brake pad replacement also gives your technician an opportunity to inspect your other brake components and ensure that everything is in good condition and is working as it should. Because of this, it's important to choose a service center with a full team of highly trained technicians that have years of experience with brake repair and service, such as ours. Whether you need something common, like a brake pad replacement, or you need more extensive brake services, we're the team to handle your needs.
Schedule Your Brake Pad Appointment
If you notice warning signs that you need your brake pads replaced, or if it's been too long since your last brake service, visit the service center at Al Smith Chrysler Dodge Jeep RAM. Our service technicians are equipped to handle all your brake repair needs, as well as any other automotive service needs that come up, and they have all the best tools and technology to perform services that last. If you need a brake pad replacement near Bowling Green, Toledo or Napoleon, call or stop by our service center today to speak with a technician about your vehicle and schedule your brake service today!